Name: Hitori Bushikaikyuu
Age: 22
Type: Human
Rank: Loner/Billionaire
Appearance: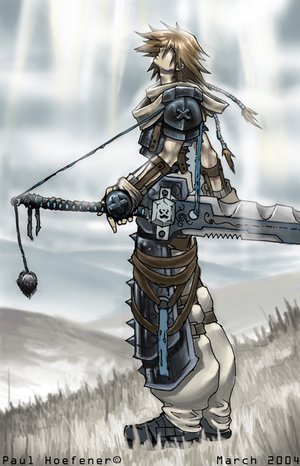 Personality: Very harsh he will do anything to get the job done.
Specialty: Hand to hand combat, Ranged Combat,
Powers: He can sense and see and hear Reishi Creatures. He also can Discharge Reaistu through his hands and feet, he also has a abnormal amount of reaitsu for a human.
Weapons:
Hitori has used his status in society to turn his father's old 10.4 billion dollar enterprise into a massive armory of Hollow Fighting weapons and aids. He has enough weapons to supply an army. He also is constantly researching to find new things to use and exploit the Hollows and Shinigami. All of Hitori's Weapons, excluding Jinriki, when not in use get compacted into a small box.
Aijou & Kirai - The most basic of weapons Hitori uses. It is a special pistol that fires a concentration of light in the form of a laser. Hitori has found a way to up the power capacity of the beam, thus making the old Side Arm beam look like a squirt gun. The new beam is almost as powerful as a Bala Blast and move twice as fast as one. Hitori has also increased the clip size by making small nuclear batteries, the batteries are the size of normal Batteries but have the power to run a normal sized house for almost two days. These are kept on Hitori's upper thighs when not in use. They compact into two 4 inch long rectangles. That are 1 inch wide.
Yougeki - Similar to the Side-Arm Beam, this weapon resembles a normal Battle rifle. It is much more powerful and has much more ammunition; this weapon is of Special make. Hitori made this to use in mid range combat. It fires three small Needles of Reishi beam. Each of these needles is made of silver and is imbued with Reiatsu. The clips hold about 20 shots before Hitori has to reload; Hitori normally carries around 10 clips in all. The clips hold the needles while the gunner Reiatsu, Yougeki is kept on Hitori's back when not in use, it shrinks down to a rectangle about 1 foot long and about 1 ˝ inches wide.
Sogekihei – The Upgraded form of the Long Ranged Beam. This is upgrade to use silver slugs the size of a 50 Cal. They too are charged with Reiatsu but because, of the size difference these slugs are able to hold a charge almost 5 times that of Yougeki. The clip holds 6 shots and then must be reloaded. Hitori carries about 5 clips. Sogekihei is kept on Hitori's Back when not in use, it compacts about 1 ˝ feet long and 2 inches wide.
Jinriki - a Prototype Saber that was made to mimic the Zanpaktou of a shinigami. it is made of a special silver compound that is highly Reactive to reaistu. When Hitori Discharges his Reiatsu Jinriki absorbs it and amplifies it so it can actually do damage to a hollow. Also Jinriki will absorb nearby Spirit particles. thus As Jinriki kills Hollows it is actively getting stronger because of its properties. Jinriki is a sword about 3 ˝ feet long and is about 4 inches wide. It is kept on Hitori' back, and it can not compact it self.
Reishi Knife – a reformatted Reishi Saber. By increasing the power supply and decreasing the output, Hitori was able to extend the lifespan of the reishi saber to work for almost 30 minutes on a single battery. Hitori also made it easy to exchange the battery. Thus making the Reishi knife a much more efficient weapon.
Compacted Reishi Grenade – A reishi Grenade that has been compacted from its larger ball form into a slender stick form. The result is the explosion is larger because of a larger concentration of Reishi particles.
and that three grenades can fit where a normal Ball Grenade could only fit one.
Reiatsu Armor – A Special armor that is used to artificially increase the strength and resistance of the human body. The armor is made of a series of hardened sections that are forged with a silver compound that hold Reiatsu; it then amplifies this with the similar technologies of Jinriki. These hard sections are on the shoulders, chest, feet, hips, and arms. Then everywhere else is covered in a special fabric that has silver compound that absorbs and amplifies Reiatsu. Thus increase a normal human's resistance to Reiatsu based attacks. The armor, like Jinriki, will get stronger over time as it slowly absorbs random spirit particles.
Character History: being the only son of the Bushikaikyuu family and the only heir to the 10.4 billon dollar enterprise Hitori was very well off. Until he was 12 when the hollows made a violent push against the humans. In this attack his father was killed and a large part of the human army was killed. Since then Hitori has devoted his life to finding a way to kill hollows in the most efficient manner possible he used his great intellect and money to enhance the human weaponry. He bought hundreds of thousand of Anti-Hollow, Weaponry and constructed a very advanced Base just out side of Karakura town. He then began a fierce regime of training to hone his body to peak conditions. He then began is now life long hunt of hollows. At the age of 20 he created the EHS or Elite Human Soldiers, this organization was made to aid Hitori in his struggle because the army was beginning to fall apart. He inducted 3 members to begin with and trained them. After this he needed ways to better staff his base now because of this he created 10 Anti Hollow Droids, these droids act as the workers of the Base. they construct the weapons needed for the base and
They repair any damaged equipment and they also in cases of emergency will fight along side Hitori. Since then all of his human staff have died off. He is the only one left in the EHS. He now is 22 years of age and is working on protecting all of Karakura Town. He has also expanded his base so that if need be he can house almost a 1/3 of the Karakura town population. Though that part of the base is used for training simulations.