Name: Kokushibyou Kuudou
Titles: The Eternal Fox, The Black Death of Hueco Mundo, And the Wandering Blood Arrancar
Age: 600
Type: Hollow
Rank: Pseudo Vasto Lorde (Adjuchas)
Appearance: Ko is the one in black. He is almost 11 feet tall. And he has immense amount of Reiatsu.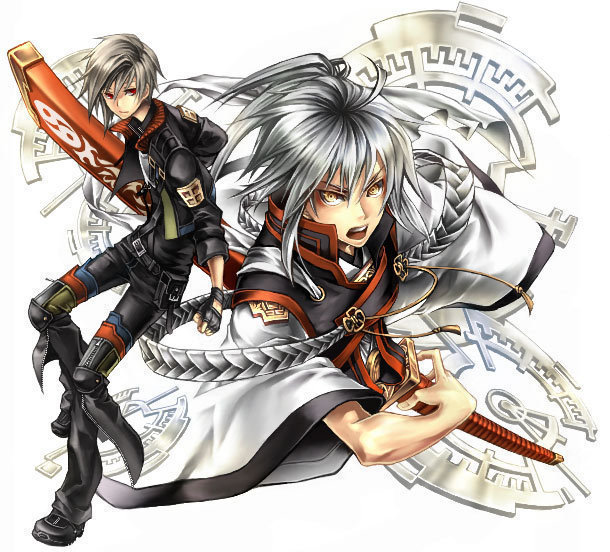 This is what his mask looks like.
Also over the tight black outfit Ko has a big blood red captains Jacket.
Released state: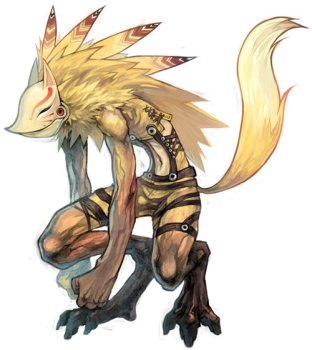 In this state he can still use the zanpaktou he has stolen. He is also still about 11 feet tall, but he speed increases and his flexibility too.
Ko became almost arrancar like from his extended period of time spent in an Adsjuchas level hollow. With this extremely long time he began to understand things that only Vasto Lorde normal understand, eventually he figured out how to seal away almost 3 / 4 of his Reiatsu. With this he turns into a very humanoid shape but instead of having a mask fragment, he has a full mask. He can then release this sealed Reiatsu and regain his full hollow appearance. Does this by usesing his Real Zanpaktou ,Oujou. His Abilities to Fuse With Otheres Reitasu Returns in this form.
Personality: He is very light hearted and he enjoys a good fight
Specialty: Pseudo-Shinigami/Pseudo-Arrancar powers
Powers: Fusion: Ko can fuse his Reiatsu with someon elses. by doing this he can copy their movements and if they are Shinigami he could posiblely steal their zanpaktou. He can only do this in his realeased state. this is his zanpaktous Power.
Hollow Abilities:
Bala: is an arrancar alternative to the cero. The technique hardens the user's spiritual pressure and fires it like a bullet from their fist. Though weaker than a cero blast, it moves about twenty times faster and can be fired at a much higher rate.
Cero: are high-powered energy blasts that can be fired from various body parts, such as mouth, tongue, hand or fingers. Only menos, arrancar, and vizard have so far been shown to use cero attacks, and it appears that stronger entities can use it more efficiently. Various arrancar and hollow characters display variants of the technique
Hierro: refers to the hardened skin of the Arrancar, which is a result of their compressed spiritual power.While their skin is strong enough to block even released zanpakutō bare-handed, it is by no means impenetrable. Stronger Arrancar have proportionally stronger skin.
Pesquisa: is the Arrancar equivalent of the shinigami ability to sense spiritual pressure. It functions similar to sonar.
Sonído: is the Arrancar equivalent of the shinigami flash steps and the Quincy hirenkyaku; it allows the user to travel at incredibly high speeds for short distances. Use of sonído is punctuated by a
Shinigami ablilities:
Kido:
White Lightning— Fires a concentrated bolt of lightning from the caster's forefinger. Incantation: unknown/none. Ko has perverted this kido and created a black lighting version of it.
Restrain— Locks a target's arms in place behind their back. Incantation: unknown/none.
Crawling Rope— An energy rope entangles a target's arms. Incantation: unknown/none.
Weapons: Ko has stolen a Zanpaktou. He has attempted many times to force his will upon the zanpaktou. after he achieved this he was able to fully control the Stolen Zanpaktou, Itonami. He has progressed to the point of where he can make the sword release it self and use shikai and bankai. this took him many decades of training. because of the fact that he has two Zanpaktou, he has learned to fuse the two powers. when he does this i creates a " Dark" or " Perverted" form of Itonami's Shikai and Bankai. this happens because of the overwhelming amount of Hollow Reiatsu to Shinigami. thus the "true" and " Perverted" shikai and Bankai.
Zanpaktou name: Itonami ( Life ) This his his stolen Zanpaktou
Zanpaktou name: Oujou (Death) this is his actuall zanpaktou.
True Shikai:
Release Phrase: "Ascend Itonami"
Powers:
Enzeru Tsume: Ko swings Itonami and a wave of White energy bursts out from the blade.
Perverted Shikai:
Release Phrase: "Sin Itonami"
Powers:
Akuma Tsume: Ko swings Itonami and a wave of black energy bursts from the blade.
the True Shikai is the above sword but white. and the perverted one is just the above sword,
True Bankai:
Name: Itonami Amatsu ( heavenly life)
Powers:
Keibatsu: the area around Ko becomes light. The Blade of Itonami glows a golden light. The blade is sharpened and it burns on contact.
Angels Grace: Ko gains and increase in speed and strenght and his Reiatsu Doubles.
Perverted Bankai:
Name: Bachiatari Itonami ( Damned Life)
Powers:
Kokuhyou: the area around Ko become Dark, the blade of Itonami turns a dark blood red. The blade is sharpened and it paralyzes on contact.
Devils Power. Ko gains increased Speed and Strenght and his Reiatsu Doubles.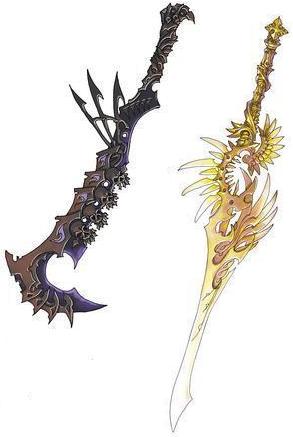 the one on the left is the perverted Bankai and the right is the true bankai.
Character History: Ko was a happy child. He lived a full and pleasurable life. Until he was 18 his parents were brutally murdered, he went nearly insane. He killed himself in depression of losing his parents, after this he was attacked by a hollow. He killed this hollow and the power of it was absorbed by him. With this is Soul underwent a sudden transformation. He became a huge hollow, with this is accidentally made a garganta and left to go back to Hueco Mundo. He continued to kill hollows and absorb them. Then one day when Ko was and adsjuchas hollow a large group of Shinigami came to Hueco Mundo. He killed them all and stole their Zanpaktou. At this point he had been an adsjuchas level hollow for over 300 years the longest there had ever been. He had a great understanding of the way things worked in hollow realm. He began experimenting and managed to mimic what the arrancar did with their zanpaktou, he synched with one of the stolen Zanpaktou. He found out how to use shikai and Bankai. He then found out how to seal his reiatsu. He began calling himself The Wandering Blood Arrancar. He did this because of how he stole Itonami, and the captains Jacket from a Shinigami Captain. The jacket was stained from the blood of the Shinigami. He is now Wandering Hueco Mundo Always looking for his next victim.